Policies and Procedures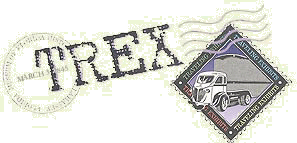 General Information
Security Requirements
General Information
Costs:
When you rent a traveling exhibit (TREX) from the Museum of Florida History, your costs include:
Rental Fee;
Non-refundable deposit that will be put towards the rental fee if no cancellations are made;
Shipping of exhibit to next location (if you are out-of-state, you are responsible for cost of shipping both ways);
Any fees incurred from closing the exhibition early.
Contract:
You must sign and return the contract, along with the deposit, within 30 days of the phone reservation of the exhibit. The contract includes the following:
Booking dates (date on the contract refers to the exhibit opening and closing dates);
Rental fee and deposit;
Security, shipping, and special handling requirements;
Museum of Florida History TREX policies;
Agreement to credit the Museum of Florida History Traveling Exhibits program in all publicity (name must be used in correct form)
Deposit:
The deposit is put towards the rental fee, and the balance is due 30 days prior to the exhibit's arrival. Deposits are due 30 days after a phone reservation is made.
| Exhibit Rental Fee | Deposit |
| --- | --- |
| $300 | $50 |
| $301-$500 | $100 |
| $501-$1,000 | $200 |
| $1,001-$2,000 | $400 |
| $2,001-$3,000 | $500 |
| $4,000 + | $1,000 |
If an institution will be receiving funds for the rental fee through a grant or underwriter, a letter of intent must be sent to the Museum of Florida History from the grant agency/underwriter.
Payment:
Make your checks payable to the Friends of the Museum of Florida History, Inc. If payment is with credit card, add 3% to the total cost for processing fees.
Cancellations:
If you cancel an exhibition after your deposit is received, your deposit will be forfeited; however, extenuating circumstances will always be considered.
Installation:
Your organization is responsible for installing and taking down the exhibit. In order to prepare for this, please take the time to:
Read written support material, which includes crate content lists, and instructions tailored for each specific exhibition, when available;
Prepare staff or other qualified persons to unpack, install, and repack the exhibition;
Prepare to move shipping crate(s) and store them in a secure, indoor location.
Insurance:
Exhibition items may include one-of-a-kind objects, works of art, or technical equipment, as well as exhibition structures, cases, or furniture.
All exhibitions are covered by an all-risk, wall-to-wall insurance policy, subject to the standard exclusions.
You must provide insurance coverage while the exhibit is at your facility.
Condition reports are essential for insurance purposes. (See next paragraph for specific information on condition reports).
Condition Reports:
You must complete condition reports within 48 hours of the opening of the exhibit and also within 48 hours of the departure of the exhibit. Failure to file a condition report or to notify the TREX coordinator of damage or loss may result in your facility being considered negligent, and thus unable to rent a TREX for a one-year period.
Use crate content lists to determine if anything from the exhibit is lost or damaged.
Notify TREX coordinator immediately (within 24 hours) of any loss or damage that occurs while the exhibit is on display.
Show any loss or damages in exhibit booklet of photographs/illustrations of the exhibit. This should be returned with the condition report(s) if there is any loss or damage.
Document any visible damage to an object and/or improper packing with photographs.
You

 

must

 

obtain written permission from the TREX coordinator in order to open frames or cases, or repair other damage.
Resource Materials:
You will receive a "TREX Exhibitor Kit" at least one month prior to the exhibit opening (available earlier upon request) that includes:
Technical instructions tailored for each specific exhibit (when available);
Crate contents lists;
Press release;
Condition report forms;
Educational material that is available for the exhibit;
Return shipping instructions and labels.
Shipping:
You are responsible for making sure the exhibit is packed and shipped to its next exhibition in a timely manner.
Your facility is responsible for the cost of shipping and for making arrangements for sending the exhibit to its next destination. Out-of-state facilities are also responsible for cost of shipping the exhibit to and from your facility.
If the exhibit has not arrived at your facility 5 days prior to the opening date, the TREX coordinator should be contacted immediately. Adjustments cannot be considered if we are not given this designated period to trace the exhibit.
Exhibitor is responsible for any extra costs incurred if the exhibition is sent to the wrong location due to exhibitor error or if tardy shipments result in increased charges for premium shipping.
If you close an exhibition earlier than stated in the contract, your facility is responsible for storage or any costs incurred for storage or extra shipping. Early shipment of a TREX to its next venue can only be done with consent of the TREX coordinator.
Restrictions:
The Museum of Florida History Traveling Exhibits are only to be used for educational purposes.
Access to your facility may not be denied because of race or national origin. Your facility should meet the Americans with Disabilities Act (ADA) standards.
No special fee may be charged without prior permission.
No smoking, food, or drinks are allowed in display, staging, or storage space containing TREX exhibitions.
Security Requirements
High Security
Museum or limited-access gallery
Trained, professional guards in sufficient number to adequately protect exhibition
Exhibition locked after hours
Alarms or night guards
Locked or secured cases for small objects; provisions to prevent the public from touching non-enclosed artifacts
Fire protection according to local ordinance, monitored yearly
Total temperature control (gallery temperature maintained at constant 68-72°)
Total humidity control (45-55% relative humidity in most cases)
No direct sunlight or fluorescent light without ultraviolet filters
Controlled light levels (most exhibitions require 5-15 foot-candles)
Professional handling only (i.e., trained professional staff)
Other restrictions may be required
Hygrothermograph or data logger
Moderate Security
Limited-access gallery
Responsible supervision by guards or trained personnel whose sole duty is supervision of exhibition
Exhibition locked after hours; alarms or night guards may also be required
Locked or secured cases for small objects; provisions to prevent public from touching non-enclosed artifacts
Fire protection according to local ordinance
Total temperature control (gallery temperature maintained at constant 68-72°); no humidity extremes
No direct sunlight; some exhibitions require fluorescent lights to have ultraviolet filters
Professional handling only recommended
Hygrothermograph or data logger
Limited Security
Limited access gallery or display area
Responsible supervision of exhibit at all times
Exhibition locked after hours
Fire protection according to local ordinance
No temperature or humidity extremes
No direct sunlight
Careful handling