After Suffrage
Once women had the vote, politicians acted quickly to win their support, and federal and state governments passed many of the reforms that women had long pursued. However, it soon became clear that women were not voting as a bloc and cast their ballots much the same way as men did. Race, ethnic background, and class mattered more than gender. Also, fewer women than men were voting. Male politicians began to lose interest in appealing to the new voters.
Black Women and the Vote
As soon as women gained the vote, Black women had to fight to keep it. As Black women organized to register to vote in the South, they faced hostility and harassment. African Americans in Jacksonville had begun a voter registration drive in 1919 that transformed into a statewide movement. Black women participated in the drive, which continued after suffrage passed. Despite attempts by some officials to keep them from registering, thousands of Black women registered to vote.
During the 1920 presidential election, racists used violence and intimidation against Black people to prevent them from voting. The worst violence occurred in Ocoee, when Ku Klux Klansmen flooded the town, killing residents and burning homes. Election-related violence was so extreme it ended attempts by Black communities in some areas of Florida to organize politically. Still, Black women and men continued to fight for their right to vote, until passage of the 1965 Voting Rights Act enabled disenfranchised African Americans to regain access to the ballot box.
League of Women Voters 
The National League of Women Voters (NLWV) formed in 1919, when the passage of the suffrage amendment appeared imminent. It aimed to educate women about political issues and prepare them to participate in the political process. Florida women organized the Florida State League of Women Voters (FSLWV) in 1921, but it was open only to whites. Through their clubs, Black women led their own voter registration drives. The FSLWV eventually disbanded, but a new league—the Florida Non-Partisan League of Women Voters—began in 1939. It became the League of Women Voters of Florida (LWVF). To commemorate its 30th anniversary and the 50th anniversary of the NLWV, the LWVF asked the Florida legislature to ratify the Nineteenth Amendment. On May 13, 1969, in a symbolic gesture, the state legislature belatedly, but unanimously, voted in favor of the amendment.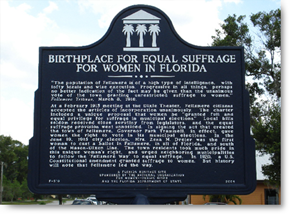 New Opportunities 
Some towns and counties in Florida had given women the right to vote in local contests before passage of the Nineteenth Amendment. In 1915, Fellsmere became the first Florida town to allow women to vote in city elections. In 1917, Marian Horwitz was elected mayor of Moore Haven, the state's first woman mayor. After suffrage passed, women had more opportunity to run for political office. In 1922, they gained a few offices at the county level. In 1928, Edna Giles Fuller became Florida's first woman state representative, while Ruth Bryan Owen won election as the first woman from Florida in the U.S. Congress.
As Florida's population increased and new legislative districts were created, more opportunities opened for women office-seekers. As of 2019, women make up about 30% of the state legislature. Since 1984, women voters have outnumbered the men in every presidential election year. While passage of the Nineteenth Amendment did not bring about the sweeping reforms that suffragists had hoped, it did give women a greater voice in government. Women continue to make their voices heard by exercising their hard-fought, constitutional right to the vote.
---
Representative Ruth Bryan Owen

Daughter of three-time presidential candidate and Nebraska congressman, William Jennings Bryan, Owen won election to the U.S. House of Representatives in 1928, and served two terms. She co-sponsored a bill to create Everglades National Park. After she left Congress, President Franklin Roosevelt appointed her as Minister to Denmark, the first woman to head an American delegation to a foreign country.  (Image: ca. 1929, State Archives of Florida)

.......

State Representative Gwen Cherry

Gwendolyn Sawyer Cherry was a former teacher who later became an attorney, and was Dade County's first Black woman attorney. In 1970, she became the first Black woman elected to the Florida legislature. She won re-election three times. Cherry was a strong advocate for social justice and the rights of women. She introduced the Equal Rights Amendment in the state legislature in 1972 and yearly thereafter. Tragically, she died in a car accident in 1979. (Image: ca. 1970s, State Archives of Florida)
Images: 
[Mary McLeod Bethune], "Mrs. Eleanor Roosevelt and others at the opening of Midway Hall, National Archives, 1943
Members of the League of Women Voters pose with Senators in the Senate chamber - Tallahassee, Florida,  State Archives of Florida, 1965
Fellsmere, FL Suffrage Marker, Wikimedia Commons