The 19th Amendment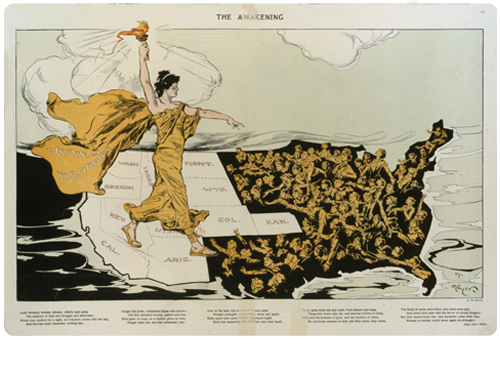 America entered World War I in April, 1917. Women's contributions during the war inspired many people to re-think their stand on votes for women. Slow to back the cause, President Woodrow Wilson finally announced his support of a federal suffrage amendment in January, 1918, and began appealing to Congress to pass the measure. On May 21, 1919, the U.S. House of Representatives voted in favor of the amendment. The U.S. Senate followed on June 4, without the support of Florida's two U.S. senators, Park Trammel and Duncan Fletcher. The amendment at last headed to the states for ratification. A three-fourths majority of the states, 36 states at the time, were needed to ratify the amendment and make votes for women a part of the Constitution.
The amendment passed out of Congress just as Florida's 1919 legislative session was ending. Former FESA president Ivy Stranahan, Dr. Mary Safford, and May Mann Jennings traveled to Tallahassee to urge the state legislature to vote in favor. They arrived the day before the session was to adjourn and conducted a brief survey of the legislators. Their survey indicated that a small majority would support ratification. However, the session ended before the legislature could act. Though Governor Sidney Catts supported suffrage, he declined to call a special session because he did not believe the legislators would vote to ratify the amendment.
Michigan, Illinois, and Wisconsin became the first states to vote yes in June, but others followed later in the month. In July, Georgia became the first state to reject the amendment. In September, Alabama was the next state to vote no. The ratification process went on through the rest of 1919 and into 1920. Ten states, including Florida, either did not vote on the amendment or rejected it. Almost all were in the South. On August 18, 1920, Tennessee became the thirty-sixth and last state needed to ratify the amendment. On August 26, the U.S. Secretary of State certified the ratification, and the suffrage amendment officially became the Nineteenth Amendment.
Image: The awakening, Hy Mayer, Library of Congress Prints and Photographs Division.