Internship Program
Practical Museum Experience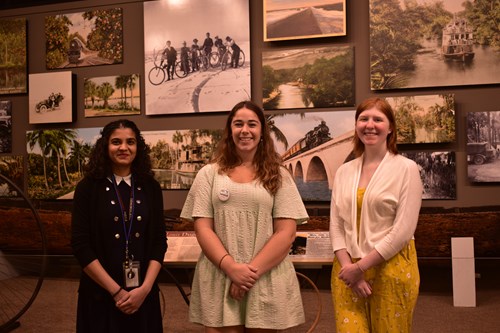 Each term, the Museum of Florida History (MFH) offers up to four unpaid internships that provide practical museum experience to graduate, undergraduate, and community college students. The internships are designed for students who already have decided their career path and are building their resume for future professional positions. Appropriate major subjects include education, history, art, public administration, anthropology, museum studies, and others related to the support of museum activities. Other college students are able to gain museum experience through the volunteer program.
Interns keep pre-arranged office hours and assume professional-level responsibilities. They help with day-to-day operations and complete some portion of a major project being undertaken by MFH or the Knott House Museum (KHM). Interns are supervised by experienced and responsible professional staff in cooperation with a university supervisor. Applicants must be enrolled in school and the internship must be for course credit to be considered. Some positions require completion of coursework in certain areas prior to being considered. Interns must recognize and fulfill the expectations embodied in the internship, taking responsibility for their actions and representing both the Museum and their academic institution in a professional manner.
MFH interns and volunteers undergo a security check by Florida Department of State human resources staff prior to beginning work.
Museum of Florida History Internship Application (PDF)
Prospective interns submit an application and resume for internships by:
Fall term: July 15
Spring term: November 1
Summer term: April 1
The time commitment for internships is described in the chart below. These requirements are based on a typical university or community college schedule, but they may be adjusted to fit the requirements of a particular program.
Graduate interns work 320 hours for 6 credit hours or 160 hours for 3 credit hours. Undergraduates work 240 hours for 6 credit hours or 120 hours for 3 credit hours.
Approximate hours each week
Fall/Spring 14 weeks
Summer 10 weeks
Graduate, 6 credit hours
24
32
Graduate, 3 credit hours
12
16
Undergraduate, 6 credit hours
18
24
Undergraduate, 3 credit hours
9
12
Please send your application and resume to: 
Museum of Florida History
500 South Bronough Street
Tallahassee, Florida 32399-0250
850.245.6400; [email protected] (Note: information sent to a state email address is subject to public records request.)