Schedule a Program for your Classroom
Schedule a Program for your Classroom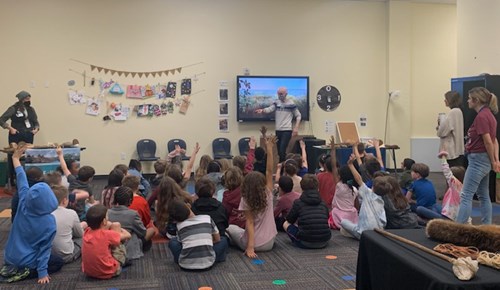 Programs for your Classroom
Our trained educators will come to your classroom to present dynamic school programs. These engaging hands-on programs encourage your students to think critically, cooperate in a group setting, and to understand Florida's rich history. 
These programs are available to all schools in Leon, Wakulla, Gadsden, Liberty, and Jefferson Counties. Programs last between 45 minutes and 1 hour. The following outreach programs are available:
Survival: Florida

 

(30 people maximum; 1 hour; grades K-6)

 


Touch and analyze objects and artifacts to learn about Florida's first peoples. By examining these items, you will determine how they were used to survive in Florida's early history. The program is divided into three segments: Florida's First People, "Can You Survive?" and Conclusion.
My symbols, my state, my Florida

 

(30 people maximum; 1 hour; grades K-4)
Learn about the official state symbols and what they mean to Florida. 
For more information or to schedule a visit, please contact our Education Staff at (850) 245-6486 or email [email protected].
The Museum of Florida History is not scheduling field trips or on-site programs at this time due to the Museum's temporary closure for a repair project. Be sure to check the Museum's learning resources on this site. 

We invite you to consider scheduling a field trip with one or more of these museums located in Tallahassee:

Mission San Luis – for inquiries, please call 850-245-6406 or email [email protected]
The Grove Museum -- for inquiries, please contact the Operations Manager at 850-363-7040 or The Grove Museum at 850-245-6100, or email [email protected]
The Florida Historic Capitol Museum – for inquiries, please contact the Historic Capitol Staff at 850-487-1902 or visit www.Flhistoriccapitol.gov for more information