Membership Program
Join now! Click here to become a member of the Friends.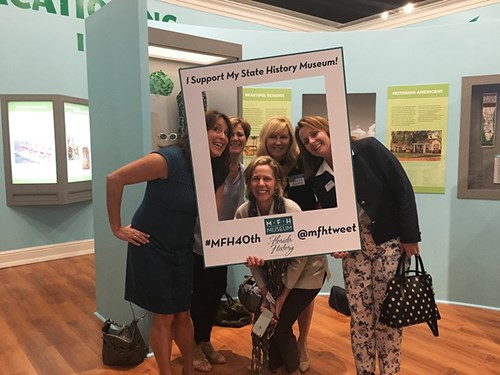 Do something for yourself and your Museum!
Join the Friends of the Museums of Florida History
Members enjoy the opportunity to be a part of exciting events, programs, and performances. In addition, your membership provides essential funding to help each of the museum sites continue to thrive and educate by expanding educational programs and collections. Above all, you'll have the satisfaction of helping to shape a legacy for future Floridians. You can have an integral part in preserving Florida's past through your membership in the Friends. Your involvement helps to keep your history alive!
One Membership - Two Museums!
When you decide to join the growing family of members at the Museum of Florida History, you will automatically receive a membership to our other site–the Knott House Museum. Each site offers visitors a unique glimpse into the rich history, culture, and people of Florida.
Individual and Family Membership Benefits:
Quarterly Membership Newsletter -

 

Historically Speaking
10% discount on purchases from the gift shops at the Museum of Florida History, the New Capitol, and the Historic Capitol. Also, invitations to special "members-only" shopping events and sales.
Invitations to exhibit openings, fundraisers, educational programs, and other special events.
Name recognition and acknowledgement of support in publications.
Free parking during visit to the Museum.
Tax-deductibility for your membership fee.
Membership is a great gift idea, too!
Ways to Join
Join on line: http://www.floridashistoryshop.com/membership.cfm
Mail

 

form

 

to:


500 South Bronough Street Tallahassee, FL 32399

Call Florida's History Shop: 850.245.6396 to join via Credit Card
(MasterCard, Visa, or American Express)
Fax membership form to: 850-245-6433
Visit Florida's History Shop while at the Museum
Your membership card will be delivered within 2 weeks
Annual Membership Package
Price

Membership benefits extend one year from the date of joining and are issued in the individual's name (non-transferable).

A notice of renewal will be sent 30 days prior to anniversary date to ensure publications are received without interruption.



Individual
$35
Family*
$60
Senior**
$25
Senior Family*
$50
Educator
$25
Educator Family*
$50
Student
$15
Friend
$100
Sustainer
$300
Benefactor
$500
*A Family includes two adults and their children under 18 years of age.
**A Senior is considered as anyone age 62 or up
For more information about membership, please contact the Development and Financial Director at [email protected] or 850-245-6413.